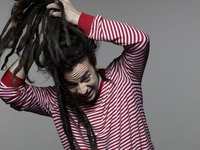 Dreads, also known as dreadlocks or locs, are a widely popular way of styling and training the hair that has been in use for hundreds of years in different cultures. It still remains a classic way of treating hair, but it can also come with certain challenges, such as the kinks and unevenness that can occur when weather, sleeping habits or other unforeseen elements come into the mix. Some regular grooming habits and a couple quick tricks can help to ease the sight of tight kinks, although many advocate for the beauty and natural appearance of kinks or bumps.
Things You'll Need
Dread wax
Small, metal crochet hook
Apply a tiny dab of dread wax to the area that needs to be reshaped. Roll the dread between your index finger and thumb, a technique also known as palmrolling. This process encourages the shape of the dread to relax into a more rounded, even consistency. Repeat this process every few days to encourage the shape of the dread to reform.
Pull any kinked or stray pieces of hair back into the body of the dread using the tip of a small crochet hook. Grab the hair with the hooked end of the tool and gently push and encourage the hair to fit snugly back into the body of the dread. Only repeat this process a couple of times so you don't damage the main shaft of the dread.
Mix together 2 tablespoons of sea salt with about a cup of warm water until the salt is thoroughly dissolved. Pour into a spray bottle.
Spritz the areas that need to be reshaped with the sea salt mixture and palmroll the affected area. Allow the saltwater to air dry after rolling and massaging the kinks. The sea salt can help tighten and refresh dreads that have become set into place.