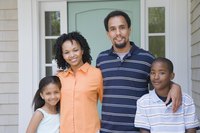 Declaring your primary residence as your homestead allows you to receive tax exemptions each year through your local county assessor. Homestead tax exemption effectively shelters a portion of your home's value from tax assessments and reduces your yearly property taxes. Applying for homestead exempt, while straightforward, requires documentation verifying your qualifying status. Each state has specific rules and offers different types of exemptions including a general, disability, senior citizen or veterans exemption. In some states, only senior citizens are eligible, while in others, all homeowners may participate.
Get homestead exemption requirements and an exemption application form from your county assessor's office or visit its website. Requirements vary, but in general, if you live in your home, have a disability or you're a senior citizen or the surviving spouse of an eligible homesteader, you may be eligible to declare your primary residence as exempt. Disabled veterans may also be eligible for additional exemptions.
Gather the documents required by your county assessor to verify your homestead eligibility. This may include a driver's license or state-issued identification, proof of disability from a certifying organization or an optometrist if you're legally blind, a utility bill or, in some cases, a vehicle registration. If you don't own a vehicle, your assessor's office may require you to submit an affidavit stating such.
Attach your documentation to the homestead exemption form. You will have to either mail it or submit it in person to the assessor's office. In some cases, if you are not able to file in person, you may elect a representative to submit the form on your behalf.
Wait for confirmation from the assessor's office. You will receive a form approving your exemption or a notice stating why you were denied. You will have at least 30 days to provide the additional information or request an extension in good faith.