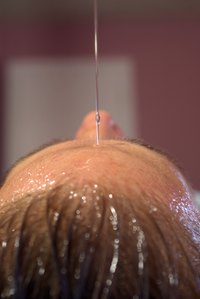 A moisturized scalp and hydrated new hair growth are two of the most coveted assets for a healthy head of hair. Oiling the scalp is a time-honored tradition for many people who want to attain both of these beauty standards but many heavy oils, such as mineral oil, can lead to a distressed scalp and clogged hair follicles. Natural oils, on the other hand, such as coconut and jojoba oil, can serve as moisturizers without over oiling the skin or hair. Regular hygiene and some loving care can help create an oiling routine that will encourage hair health.
Things You'll Need
Coconut or jojoba oil
Lavender or thyme essential oil
Moisturizing shampoo and conditioner
Mix together 1 tablespoon of coconut or jojoba oil with 1/2 teaspoon of lavender or thyme essential oil in a small bowl.
Dip your fingers into the mixture and then begin to massage your scalp with the oiled fingers. Move your fingers in a gentle circular motion. Dip your fingers into the oil mixture as you move your way across the scalp and repeat as needed.
Massage very gently for about three to five minutes, and then allow the oil to sit on the scalp for another five minutes for an extra boost of moisture.
Wash out the oil mixture using a rich, moisturizing shampoo that will remove the excess oil while also encouraging moisture retention in dry or frazzled hair.
Apply the moisturizing conditioner and allow it to sit in the hair and on the scalp for at least two minutes before rinsing out with warm water.