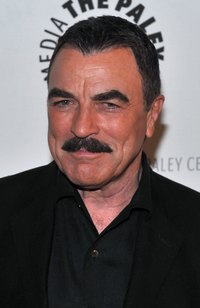 Since the dawn of the razor, men have been sculpting their facial hair into fashion statements, the boldest perhaps being the mustache. Whether you sport a handlebar, pencil or a full blown Fu Manchu, trimming your 'stache is a must to avoid a bushy upper lip. With just a few tools and a bit of patience, you can take your mustache from messy to manly in no time.
Things You'll Need
Blade razor
Electric trimmer with defining tool
Small grooming scissors
Shaving cream
Mustache comb
Mustache wax (optional)
Acquire the proper tools designed specifically for facial hair grooming. An electric trimmer that comes with defining tools will help you achieve a general shape and clean up the rest of your face, while a blade razor and some shaving cream will really help define the outline of your mustache. As for maintaining the mustache itself, a regular comb and scissors won't do, as they are too large to do any detailed work. Use a fine toothed mustache comb to tame any excess bushiness, then a pair of small grooming scissors to do any fine tuning.
Comb out a completely dry moustache with a fine toothed moustache comb. Use an electric trimmer to carve out your desired shape, first cleaning up any facial hair you want completely gone, then tidy up the outer most edges. Trim the bottom of your mustache (where the hairs meet your upper lip) with the small scissors, starting from the middle and snipping your way to one side, then starting from the middle again and snipping your way to the other side. Maintaining a neutral facial expression during the trim will ensure clean, even lines. To reduce the volume of your mustache, trim the length of the hairs using the appropriate guide on your electric trimmer, or comb through your mustache and trim the hairs with small scissors.
Wash your mustache twice a week with the same shampoo and conditioner you use on your hair to keep it soft and shiny. Then, apply a small amount of mustache wax to your fingers, then smooth down any stray bristles. You can also use mustache wax to shape the edges into the style you desire.