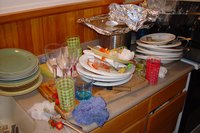 Dirty tenants can be extremely frustrating and costly for any landlord -- after all, you have entrusted them to take good care of your real estate investment with the understandable hope that they will keep it reasonably clean for the duration of the tenancy. Dirty tenants can bring down the real and perceived value of your property and need to be dealt with both quickly and fairly. The terms of your lease that pertain to property condition and inspections are your keys to dealing with dirty tenants.
Before Renting to a New Tenant
Perform vigorous background checks. This will help you gain a better understanding of what kind of tenant your applicant will be. If your applicant was evicted because of the condition of the property he was occupying, you should note this as a glaring red flag. Consider moving on to the next potential renter, as this applicant could spell trouble in the future for you and your real estate investment.
State in your lease what your tenant is accountable for when it comes to housecleaning. While you cannot legally expect your tenant to keep your property spotless, there are certain responsibilities your renter must perform when living there. These include disposing of any trash in a sanitary way and not doing anything that attracts pests such as rodents and insects. Tenants are also prohibited from defacing or destroying any of your property.
Leave up-to-date contact information with your new tenant so that he can contact you immediately in case something breaks or if he has questions. When a problem does arise, take care of it as soon as possible. Tenants who feel that their landlord is decent and approachable may be more likely to care for the property more diligently.
While Your Property Is Occupied
Understand the difference between "messy" and "dirty." A messy home may involve clothes on the floor and a few unwashed dishes, while a dirty home includes rotting food that can attract pests, trash and bottles out on the lawn and any damage to the property caused intentionally or by neglect. While a messy home is understandable, a dirty home is a cause for concern.
Ensure your lease has a clause that allows you to inspect the property and keep up with regular inspections -- just make sure you give the proper notice to your tenants beforehand. Inspections will help you make sure that your tenant isn't breaking your lease by violating fire or health codes or causing damage beyond normal wear-and-tear to your property.
Decide whether to give the tenant in violation of your lease a warning or to begin the eviction process. If he is nearing the end of his lease, you can also simply decline to renew and use his security deposit to fix any damage he may have inflicted and to cover cleaning costs. If you decide to give him a warning, make sure to follow up to ensure that he is abiding by the lease.