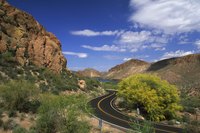 Phoenix lies low in the Sonoran Desert, with orange, red and purple sunsets silhouetting iconic saguaro cacti. Its hot weather and magical landscape attract visitors looking for a change of pace. Plan your trip properly to indulge in Arizona's urban heart.
Valley of the Sun
Phoenix sizzles under a cloudless desert sun more than 85 percent of the year. Protect your skin from unrelenting ultraviolet rays. Pack sunscreen and a wide-brimmed hat and protect your eyes with 100 percent UV-protected sunglasses. Make sure to bring SPF-powered makeup, including lip balm with UV protection. Specially designed sun-protective clothing offers UV protection and lightweight material that breathes to help keep you cool.
Fry an Egg
The months of June through September average over 100 degrees Fahrenheit per day, and there's little rest from the heat when the sun goes down; temperatures can remain that high long after dusk. If you're traveling between May and October, pack light clothing, including plenty of T-shirts, shorts, flip-flops and swimsuits. Bring extra outfits for changes of clothing to keep fresh, especially if you plan to hike. Mountainous trails crown Phoenix, and Camelback Mountain sits right in the middle of the city. Bring hiking sandals, sturdy shoes or hiking boots to enjoy the rocky trails.
Fifth Driest City
Sky Harbor International Airport records a mere 7 inches of rainfall per year. The arid air can take its toll on your skin and leave you dehydrated. Bring moisturizer and apply liberally throughout your stay. Pocket some lip balm and carry a refillable water bottle. Phoenix doctors recommend drinking at least a gallon of water per day just to stay hydrated, and you'll need to drink more if you plan on enjoying the outdoors. Since sweat evaporates off your skin and clothes quickly, you may not feel sweaty, but you could smell sweaty. Pack travel-size deodorant and take it along with you on a hot day.
Unexpected Weather
Monsoon season's thunderstorms wreak havoc, flooding the streets with dangerous washes while bringing powerful winds and lightning from mid-June to the end of September. These short-lived, intense storms sweep through almost daily, so plan ahead with an umbrella and twice as many outfits as you'd bring otherwise. And while December, January and February boast temperate daily highs, the nights can dip into the 40s. Pack a light coat and a few sweatshirts if you're heading to Phoenix to escape harsher winters elsewhere.
Nightlife
Scottsdale, in Phoenix's east valley, comes to life after the colorful Arizona sunset. Scottsdale's Old Town and Phoenix's Biltmore District burst with bars, dance clubs and restaurants. Take advantage of the pleasant after-dark temperatures and dress up for a night on the town, packing a dress shirt and pants for men or your favorite dress for women. The Valley of the Sun also offers more casual nightlife experiences, especially around downtown's baseball and basketball stadiums, and Glendale's football and hockey stadiums. Feel free to pack your favorite T-shirt or sports jersey, tennis shoes and jeans.