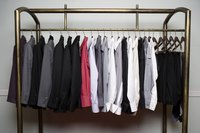 A new dress shirt, whether purchased on a hanger or folded neatly in a package, may look creased and feel stiff when you first wear it. Over time and after a few washes, a new shirt will take on a softer feel, but if you want to vanquish creases quickly, you need to apply heat to the fabric. Cotton and cotton-blend shirts can take heat well, but read the care label before you begin. You can damage certain fabrics, like silk, if you apply heat directly to them.
Things You'll Need
Washcloth
Hand towel
Handheld steam cleaner
Remove any tags or pins from the dress shirt. Place the shirt in the dryer and position the dryer setting to a low heat. Add a damp washcloth or hand towel to the dryer. Set the timer for 10 minutes. The heat from the dryer will remove creases and wrinkles.
Erase stubborn creases with a handheld steam cleaner. Hang the shirt on a hanger. Place the hanger on the back of a door or somewhere that you can easily reach it. Heat up the steamer. Move the wand over the crease, a few inches from the fabric. The steaming action will reduce the appearance of creases.
Place the shirt on an ironing board and set the iron to the appropriate setting for the fabric. Press out the creases one section at a time, using a thin towel as a buffer between the iron and the fabric. If your iron has a steam feature, apply steam while you iron.