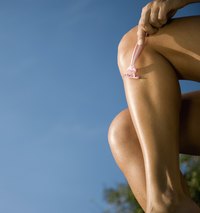 Maybe you've just finished blowing out your hair and and applying your makeup when you realize you forgot to shave your legs in the shower. Hopping back in is unappealing, because it would lead to wilted hair and smudged makeup. Or perhaps you are about to sink into a relaxing bath for a shave when you realize you are out of shaving cream. In either case, you need to find a way to shave your legs with what you've got on hand. Luckily, shaving your legs with lotion is simple, quick and effective.
Things You'll Need
Make sure both of your legs are clean and dry.
Liberally apply lotion to both of your legs, but do not massage it into your skin.
Using light pressure, glide the razor across your skin in an upward direction to achieve a close shave.
Rinse the razor with the running water after every few strokes to prevent lotion from building up on the blade.
Once both legs have been shaved use the clean towel to wipe excess hair and lotion off legs.
Rub any remaining lotion into skin.