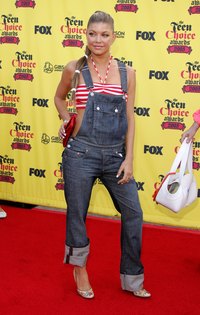 Overalls are designed for comfort and utility, often featuring multiple pockets and loops. However, they're often made from sturdy material that can make these garments sometimes a little stiff upon first wear. By following steps to ensure your overalls are soft and pliable, you can wear them to work in the garden or to head to the corner market in comfort and style.
Things You'll Need
Top-loading washing machine
1 cup salt
Fabric softener
1/4 cup baking soda
1/2 cup distilled white vinegar
Dryer
Dryer balls
Drying rack
Start your washing machine on its cold cycle. Let the water fill the machine about 1/3 of the way.
Add 1 cup of salt to the water. This prevents the color in your overalls from bleeding while preserving the hue. Stir the solution a little by hand to distribute and diffuse the salt in the water.
Add a 1/2 cup of liquid fabric softener to the water. Let the salt, water and softener mix thoroughly prior to adding your overalls to the machine. Avoid pouring softener right on the overalls. If you prefer a more natural softening agent, a 1/4 cup of baking soda mixed with a 1/2 cup of distilled white vinegar works well.
Let the overalls go through a normal wash cycle. Stop the washer before it reaches the rinse cycle. Reset it to the same wash cycle previously used. You may have to do this a few times if your overalls are really stiff. Let the machine perform the rinse after the third or fourth reset.
Toss the overalls into the dryer along with two to three softening balls. Dry the overalls on the lowest setting your machine offers. If you are also trying to shrink the overalls, set the machine on its hottest setting.
Hang the overalls on a drying rack to let them finish drying if you used the the lowest setting on your machine.