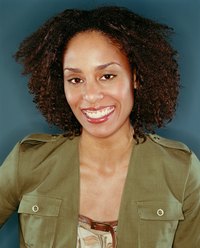 Twist braids, also known as twist-outs or braid-outs, protect your natural hair from breakage and stretch. When you take the braids down after a few days, your curls will be bouncy and well-defined. The secret to a perfect takedown is lots of moisture.
Things You'll Need
Conditioner
Olive or coconut oil
Spring clips or non-snag ponytail bands
Rat tail comb
Mix a generous handful of conditioner with a few drops of water, and work the conditioner into your twists by gently squeezing and massaging them. Once you've applied the conditioner, apply olive or coconut oil.
Secure the top layer of braids on top of your head with a large spring clip or non-snag ponytail band.
Pick apart the ends of each braid in the bottom layer with a rat tail comb if necessary. Stop picking after no more than 2-inches.
Unravel the rest of the braid with your hands, applying more conditioner as needed. Clip up sections of unbraided hair as you work to keep them out of the way.
Pull the individual strands of the braids apart to free your curls. If desired add extra conditioner or oil to the ends after you finish taking down your hair.