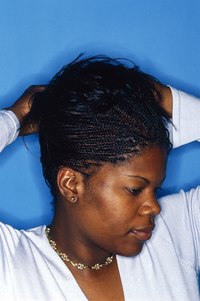 Braids are a relatively low maintenance style, ideal for protecting your natural hair as you transition from relaxers. However, if you don't care for them properly, braids can become fuzzy. As with unbraided hair, moisture is the key to taming braid frizz. If you don't have time to visit your hairstylist for braid maintenance, neaten them at home and extend the life of your style.
Things You'll Need
Clarifying shampoo
Spray bottle
Leave-in conditioner
Microfiber towel
Olive oil
Coconut oil
Jojoba oil
Shea butter
Tea tree, lavender or peppermint oil
Dilute 1 tablespoon of clarifying shampoo in an 8 ounce spray bottle full of water. Shake the bottle to mix the shampoo and make suds. Stand under the shower, and saturate your hair with water, massaging your scalp to loosen dirt and oil.
Spray your scalp with the diluted shampoo and massage again to work in the suds. Stand under the shower, and let the water carry the suds through your braids. Repeat if necessary.
Apply a generous amount of silicone-free, leave-in conditioner to the palms of your hands. Add a little water and rub your hands together. Smooth your hands over your braids, and work the conditioner into the braids by squeezing the conditioner through them.
Wrap your hair in a microfiber towel, and wear it long enough to absorb the excess water. Remove the towel, and shake out your braids if they're long.
Mix 1/4 cup of various oils. Try extra-virgin olive oil, unrefined coconut oil, jojoba oil or melted shea butter. If you want a cooling scalp treatment, add two drops of peppermint, tea tree or lavender essential oil. Smooth the oil over your braids with your hands, working it in to help eliminate frizzy ends.
Apply oil to your braids daily to help keep fuzzies under control. Sleep on a satin pillowcase or with a satin scarf on your head to help keep braids smooth.