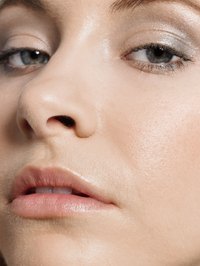 Red and ruddy complexions aren't necessarily the result of poor skin care. Stress, eating habits and even heredity all play a part. Specialized skin primers offer the ability to correct your skin's tone, without having to cake your face with makeup. These cosmetics are colored with the express purpose of offsetting uneven skin tone, making your face look as natural as possible.
Things You'll Need
Facial cleanser
Green-tone primer
Clean your face thoroughly with your choice of oil-free facial cleanser.
Apply a small amount of primer to your finger or cosmetic brush. Green-tone primer is recommended, as this color is designed to offset red discoloration caused by rosacea or other blemishes.
Apply the primer product directly to the discolored spot. These products are designed to directly improve specific discolored areas, not your entire face.
Apply your favorite foundation over your face prior to applying whatever makeup -- if any -- you choose to use.