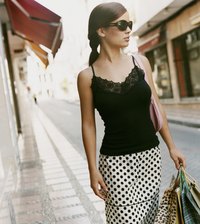 When it comes to wardrobe malfunctions, visible panty lines top the list as one of the most embarrassing. It's even worse if you discover your panty lines on a date, in a job interview or during a meeting with your boss. Some types of panties cause visible lines more than others, and the pants and dresses you wear factor in, too. Several varieties of underwear give you ample protection while minimizing or eliminating panty lines.
Wear seamless panties. These panties don't have bulky trim, so they won't show beneath your clothes.
Put on a pair of high-waist panties, also nicknamed "granny panties." These underwear cover your entire rear end, so the hem is less visible.
Wear boy-short panties. This type of underwear looks like a small pair of shorts.
Put on no-show panties. These panties are made of spandex, so they won't make visible lines under your clothes. Stores sell no-show panties in several styles, such as boy shorts, thongs and high-waists.
Wear a thong. Thongs cover you up without showing visible lines beneath your pants or skirt.
Buy underwear that fits you properly. If your panties are too big, the extra fabric will hang loose and bunch up.
Avoid wearing tight, form-fitting or very thin garments. Too-tight pants or skirts accentuate panty lines and make them more noticeable.
Wear dark or patterned clothing to hide visible panty lines.
Forgo wearing panties when possible. If you go this route, you may still want to wear panties during your period. You're more prone to developing vaginal infections at this time, and underwear helps protect you from them.