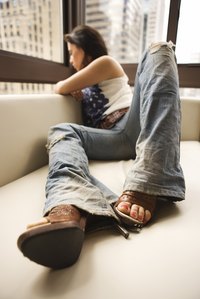 "Grungy" dressing has moved from the literal definition to an aesthetic preference adopted by many who prefer to keep their clothes clean. Instead of spending big bucks on bleached and torn designer denims, alter an old pair you were ready to donate or trash -- or pick up a well-fitted pair from the secondhand shop to test your DIY skills.
Things You'll Need
Vinyl gloves
Measuring cup
Chlorine bleach
White vinegar
Water
For half dip: Bucket and stick that exceeds diameter of bucket
For whole jean: Tub
For acid wash: Sponge and tarp or large plastic
Chalk or pencil
Scissors or knife
Rocks, sandpaper or file
Waterproof fabric glue
Bleach
Choose a stylistic preference of bleach: half dipped, whole jean or acid washed. Create a bleaching mixture using a ratio of 1 cup bleach to 2 cups water, using waterproof gloves for protection. The total amount you'll need will depend on your stylistic approach to the bleached look. If possible, bleach outside for ventilation; otherwise, open a window in the area you are working.
Fill a bucket with the bleach and water mixture, if you want a half-dipped bleach job. Loop a stick through the belt loops; if the jean has no loops, use a hanger with pant clamps. Place the stick or hanger over the edges of the bucket and let the pant legs lie folded in the mixture; keep in mind the bleach will creep up the fabric about an inch from direct contact. Wait about 1 hour to ensure the bottom portion is completely white.
Fill a tub with a few inches of the bleach and water mixture, for a whole jean bleach. Lay the pants stretched out flat in the tub. Wait about 30 minutes to 1 hour, depending on how light the denim is and how white you want them.
Set the pants on tarp or plastic, for an acid wash. Make sure the entire floor around the bleaching is covered, or bleach outdoors in case of spilling. Dip a sponge in the bleach and water mixture and apply on the jeans by gently sweeping and blotting where you want the fading. Avoid applying harsh pressure with the sponge so that the look is not whiter than you want. The full bleached effect shows up after about 15 minutes following direct contact; you can then reapply if you want a whiter wash.
Wash the jeans thoroughly in the washer. Use the cold water cycle and the usual amount of laundry detergent. Ensure you wash the jeans alone, as the bleach can affect added clothes.
Run the jeans a second time through the wash cycle to seal the process, again using cold water -- and add 1 cup of vinegar. Let dry via hanging outdoors or in a dryer solo.
Put Holes
Put your jeans on and mark where you want your tears with chalk, pencil or some other washable writing utensil. Popular looks include slits and holes on and around the knee and thigh areas. Consecutive slits that reach from seam to seam on your knees and upward make a trendy, calculative look, while a few randomized holes of varying sizes around your knees and thighs make a more naturally torn look. After marking, take the pants off.
Cut straight, horizontal slits using a knife or scissors. For a more hole-like look, poke a small incision with the scissors or knife and tear open with your hands.
Rough up the edges of slits or holes with a textured rock, sandpaper or a file by rubbing the item repeatedly over the tear. The sandpaper is easiest for beginners because it is a flatter surface to handle.
Seal slits and holes with waterproof fabric glue by gluing the fringed area on the inside of the pants. Make sure the glue is completely dry before throwing in a dryer, as many fabric glues are flammable when in liquid form.