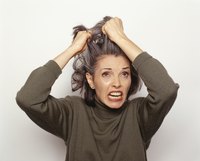 Although gray hair is widely considered a mark of distinction for males and females alike, you may be self-conscious about gray streaks that occur prematurely. Fortunately, there's no shortage of hair coloring kits on the market to address this very issue. Applying hair coloring evenly -- and according to the manufacturer's directions -- ensures an even and relatively natural-appearing look, devoid of unsightly gray streaks.
Things You'll Need
Petroleum jelly
Hair clips
Open the kit and don the latex gloves contained within.
Apply a smear of petroleum jelly around your hairline to avoid dying your skin.
Separate your hair into sections, securing each with hair clips. It's easier to work in quadrants as opposed to attempting even coverage without isolating these sections.
Mix the color with the activator, if present.
Apply the coloring using the brush provided with the kit. Focus on the gray areas, since it's this hair that's the most resistant to coloring.
Allow the mixture to sit as long as the manufacturer prescribes.
Wash your hair, attempting to remove as much residual coloring as possible.