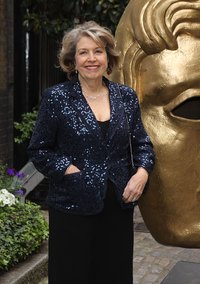 A feminine, strapless dress is a garment that's eternally in style. While the style capabilities for this classic silhouette are endless, certain drawbacks include chilly shoulders and showing too much skin during conservative affairs. A quick way to eliminate the cons of a strapless style is to cover up your shoulders so you'll always be comfortable and appropriate for the occasion. Whether by way of shawl or a cool sequined jacket, cover up in style with a few simple tips.
Layer an embellished jacket on top of your strapless gown to really make an impact. If your strapless dress is in a neutral shade like white, black or beige, opt for an embellished jacket in a metallic to perfectly complement the look. Similarly, a bold and bright dress in shades like blue, pink and green will pair fabulously with an embellished jacket in a chic shade like ivory or black.
Throw on a lovely bolero if the occasion calls for something a bit more tame than an embellished jacket. A bolero in a vibrant shade will add pizazz to a strapless gown, while something more subtle is ideal for more conservative affairs. Black, white and a combination of the two are great options for a sleek and chic bolero that covers your bare shoulders.
Wrap a shawl or scarf around your shoulders for a classic and elegant look appropriate for all occasions. Simply fold your scarf into a triangle and drape over your shoulders. Tie a knot in the center for a perfectly covered up look that's ideal for any event where a chic and sophisticated look is key.