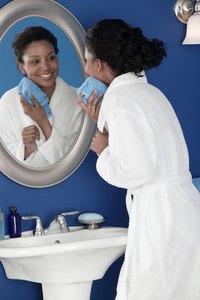 An acne breakout is bad enough on its own, but when the pimples fade and leave behind glaring red marks, it's even worse. Bright-red acne marks show up when you pop or pick at zits, but sometimes, they also appear for no reason at all. If you're plagued by acne marks, don't bemoan your bad luck just yet. By giving your skin the care it needs, your face will be blemish-free in no time.
Things You'll Need
Sunscreen
Wide-brimmed hat
Moisturizer
BHA or AHA products
Oil-free cosmetics
Apply a non-greasy SPF 15 or higher sunscreen to your face when you head outdoors. Sun exposure slows your body's ability to heal, so red marks take longer to fade. A wide-brimmed hat also helps protect your face from UV rays.
Use only nonabrasive beauty products on your skin until it heals. Abrasive products will irritate your skin and make the redness worse.
Hydrate your skin with a moisturizer that's loaded with antioxidants for faster healing. Products containing retinol and niacinamide may also yield results.
Apply an exfoliating product containing beta hydroxy acid (BHA) or alpha hydroxy acid (AHA). BHA treats acne and may fade red marks. AHA products also fade red marks, but they can't penetrate oil, so don't rely on them to rid your face of pimples.
Cover red marks with an oil-free foundation or concealer until they heal. Apply a green-tinted concealer to counteract the redness of pimples, and then cover them with foundation that matches your skin tone.