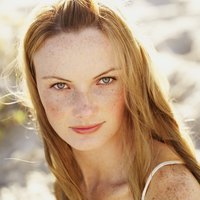 Freckles are a form of hyperpigmentation, similar to sunspots and other dark areas found on skin. Although many find freckles charming, you may not, choosing instead to fade them out and reduce their visibility. One cheap method of doing this is by using lemons, a common household item that contains natural bleaching properties.
Things You'll Need
Sharp knife
Fresh lemon or concentrated lemon juice
Cotton balls
Clean washcloth
Cut a few lemon slices, using a sharp knife.
Lay the slices over concentrated freckle patches. Alternately, douse cotton balls in concentrated lemon juice and rub the liquid over wider areas.
Allow the juice to sit for as long as possible. Rinse your skin with a clean washcloth.
Repeat the treatment daily, until you see satisfactory results. This method is only effective if done regularly and, as it's effects are gradual, you may not see results for several months.