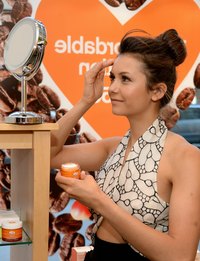 Hopefully, applying moisturizer whenever you wash your face is already a daily habit. If not, it's time to start. As you wash your face, you remove some moisture along with dirt and grime. Gently patting on a moisturizer will keep your skin hydrated and protected. Choose a gentle moisturizer that makes your skin feel smooth and soft, not oily or tight. Don't forget your eyes and lips, either. Treat your skin like a delicate piece of fabric, and it will look fresh and beautiful for years to come.
Things You'll Need
Facial moisturizer
Hand lotion
Wash your face and pat lightly with a soft towel to absorb some--but not all--excess moisture. Moisturizer absorbs more easily into clean, slightly damp skin. Don't rub with the towel, which can irritate skin.
Wash your hands and rub moisturizer all over your hands until it is completely absorbed. If your hands are dry, they will absorb some of your facial moisturizer. Dirty hands will spread oil and impurities to your face, which can result in acne.
Squirt a pea-sized amount of unscented facial moisturizer onto your fingers and rub lightly to warm. Warmed moisturizer will absorb into the skin better than cold moisturizer. Scented moisturizers can aggravate delicate facial skin, especially around the eyes and mouth.
Dot the moisturizer onto your forehead, cheeks and chin. Pat, don't rub, the moisturizer into your skin, using an upward motion. Don't pull downward on the skin.
Rubbing delicate facial skin can lead to irritation and broken capillaries, especially around the nose. Add a little more moisturizer if necessary to apply a thin amount all over the face.
Apply a small dot of eye cream onto your ring finger and pat it very gently under your eyes and across your eyelids. The ring finger is often the weakest finger on your hand, which will help prevent you from applying too much pressure to delicate eye skin.
Pat lip balm onto your lips using your ring finger. Carry it with you for reapplication. Eating, drinking and licking your lips can remove balm and rob them of moisture.
Let the moisturizer fully absorb into the skin before applying makeup. You should find that makeup applies more smoothly to a well-moisturized face, and that you don't need as much foundation or powder to achieve smooth, even-toned skin.