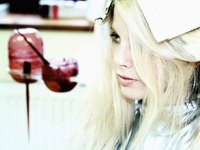 Going blonde can create a dramatic change for your look, but if you go too light too fast, that may not be for the best. Blonde dying treatments have the potential to do serious, lasting damage to your locks, so if you want to lighten up, you should do it gradually and with the help of a pro. Taking your time ensures that your hair doesn't suffer any avoidable damage, keeping it healthy while brightening up your look.
Consult with a salon professional. Don't be tempted by bottle kits and do-it-yourself dyes, especially if you're going more than two shades lighter than your natural hue. Going blonde gradually and safely is an investment worth making, and your stylist can even help you determine which shades best complement your skin tone.
Create a long-term game plan with your stylist. In "Lucky Magazine," celebrity colorist Kyle White recommends only going lighter by two or three shades per session -- going from brunette to blonde can take up to three sessions, timed at your stylist's discretion.
Wash your hair 48 hours before each coloring session and give it a deep conditioning treatment, and then do not wash it again before the session. This helps it retain moisture, which blonde coloring can strip away, while giving it time to build up natural oils that protect the hair and scalp.
Avoid treatments and products that dry your hair while you're going blonde. Heat treatments like blow-dryers and hot irons can fry your locks, and alcohol-based products exacerbate the drying caused by the coloring treatments. Stick to towel drying and moisturizing products instead.