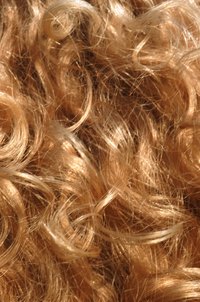 A curly weave adds texture, fullness and length to your natural hair, but keeping this hairpiece looking good takes special care. Unlike straight hair weaves, the curly version tangles easily, especially if you sleep with unprotected hair. If you comb curls too frequently, or improperly comb synthetic weaves, curls can mat or frizz, making it tough to style. Human hair weaves can endure regular comb jobs to remove snarls but you should keep the combing to a minimum or risk losing some curl.
Things You'll Need
Wide-tooth comb
Leave-in conditioner
Synthetic weave conditioner
Place your hand at the joint. This is where the weave hair meets your natural hair. Place a wide-tooth comb in your other hand.
Comb the hair with one hand, starting at the ends. While you comb lift the joint slightly to alleviate tugging and pulling. Combing too roughly can damage your natural hair. Once the ends of the hair are tangle-free, comb the top of the hair just below the joint. Do not pull or tug on the joint. You could loosen your weave. You should comb the weave in the morning to refresh your curly look.
Squirt a leave-in conditioner into the palm of your hand. Scrunch the conditioner into the ends of your natural hair weave. If you are wearing a synthetic weave, use the moisturizing products suggested by the manufacturer. Work the product into the hair but avoid applying moisturizer to the joint. This could loosen the weave and cause it to slide down the hair.