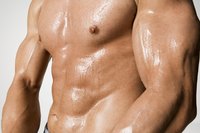 In a society full of dieters obsessed with weight loss, there's another, smaller group of people trying to gain weight. For people on a weight-loss quest, the challenge of gaining weight may seem more of a blessing than a problem, but for those who are working out and trying to put on mass, it's not so blissful. Putting on weight can seem like mission impossible if you have a naturally lean frame. However, in conjunction with intense training, a carefully crafted diet can help add the size you want.
Eat often. Not only is it important to fill your tank with nutritious, muscle-building foods before you work out, but you should also do this continually throughout the day. Eat high-protein foods paired with moderate carbohydrates and healthy fats every three to four hours to provide your body with a constant supply of nutrients to help you gain weight.
Eat a pre-workout meal high in protein, which provides the building blocks for muscle. Stick with quality protein sources such as chicken breast, whey protein, lean beef, low fat dairy and fish. You should aim to consume about 1.5 grams of protein per pound of body weight, and your intake should be divided over the course of five to six meals. Your pre-workout meal counts as just one. So, if you weigh 200 pounds, you'd need about 300 grams of protein. For six meals per day, each meal should contain around 50 grams of protein.
Supplement your pre-workout meal with low-glycemic carbohydrates. While you need protein to build muscle, you need carbohydrates to fill your muscles with glycogen to fuel intense workouts. The bigger you are, the more energy your body requires to move, so the more carbs you'll need. If you're over 200 pounds, you need about 40 to 55 grams per meal; if you're lighter, 30 to 35 grams is sufficient. For pre-workout meals, stick with slow-burning, low-glycemic carbohydrates such as whole-grain bread, oatmeal and sweet potatoes.
Give your pre-workout meal adequate time to digest before you exercise by waiting 40 to 60 minutes after you eat. Also, choose foods that are unlikely to upset your stomach. Stay away from high-fiber carbohydrates that may send you running for the bathroom, and heavy, fat-filled foods that will feel like a block of concrete in your gut for hours.