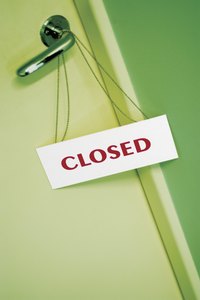 Following the proper steps to close a corporation with the Internal Revenue Service can mean the difference between having a smooth transition and being faced with fines and penalties. For many business owners, going through the process of closing a business with the IRS may seem overwhelming, but by carefully following the IRS instructions and filing the proper paperwork you can save yourself a headache.
File your final tax return for the year that your business closes. Attach a statement to your final return with the name of the person maintaining the payroll records and the location where the records are stored. Also, check the box on your tax return that indicates that it is your final return.
File a final employment tax return if you have employees. You should use Form 940 if you file your employment tax forms annually. If you file quarterly, then file Form 941. For agricultural businesses, file Forms 943 and 943-A. Don't forget to pay your final federal tax deposits to the IRS. You can do this electronically using the Electronic Federal Tax Paying System.
Report the dissolution or liquidation of your corporation on Form 966. If you have employees, you will need to send each employee final wage and withholding information on Form W-2, and if employees receive tips, file Form 8027. You also need to report the total wages and withholdings of all your employees on Form W-3.
File Form 5500 to report final information on employee pension or benefit plans. File Form 4797 to report whether you sold or exchanged any of your business property. If you sold any business assets, report it on Form 8594. File Form 1120 for corporations if you need to report capital gains and losses. Finally use Forms 1065 and 1120S to report partner and shareholder shares.
Close your business account that is attached to your Employer Identification Number. Write a letter to the IRS indicating the reasons why you want to close your account, including the business name, EIN and business address. Send your correspondence to: Internal Revenue Service, Cincinnati, Ohio 45999.