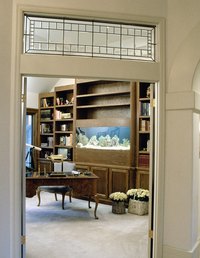 Fish tanks, and the precious tenants inside, can be a real financial investment for even a casual hobbyist. If you noticed that the glass is leaking on the top of the tank, it's important to fix the leak before it expands, cracks and potentially ruins the tank altogether. With the help of a few home products and a strong silicone sealant, you can fix the leak in the glass and have your aquatic friends back in their home within a day or two.
Things You'll Need
Temporary tank
Towel
Bucket
Hose
Hair dryer
Aquarium silicone sealant
Transfer fish or other inhabitants to another water source or tank, and remove all other contents of the tank such as large rocks or foliage. Because the leak is at the top of the tank, don't worry about removing small rocks or tank gravel.
Drain the tank and let it dry completely. Make sure that all of the moisture is out of the small crack or leaking area in the tank before you proceed. To do so, blow warm air on the crack with a hair dryer. Avoid a higher heat setting on the hair dryer, however, which could cause a small crack to expand into a larger crack.
Squeeze on a line (bead) of aquarium silicone sealant directly over the crack on both the inside and the outside of the aquarium. There are many different brands of silicone sealants available at most hardware and aquarium stores. Just make sure that the tube or packaging indicates that it is approved for use in aquariums.
Wait for the silicone sealant to dry, which depending on the humidity of your home, could take between 24 and 48 hours. If the silicon bead is thin and short to repair a small leak, it should dry within 24 hours.