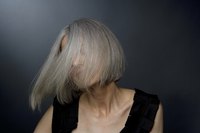 Wigs are worn for numerous reasons. Whether you need one to conceal patchy or receding hair, feel self-conscious about recent medical treatment or simply want a change of pace, wigs are an important accessory. Keeping the wig in place -- especially over a few days -- requires proper reinforcement and attachment. Using a variety of methods, you can keep your wig in place without shifting or fear of accidental removal.
Things You'll Need
Bobby pins
Hair tie
Scissors or razor
Isopropyl alcohol
Cotton balls
Wig tape
Wig glue skin protectant
Wig adhesive
Adhesive solvent
Using Wig Tape
Pull your natural hair back tightly -- if your hair is long enough -- to make it as snug against your scalp as possible. Secure it with bobby pins or a hair tie. Don a wig cap if you have an unusually thick head of hair.
Trim away any excess hair from the area to which you'll attach the wig tape, using scissors or a razor, to help the tape adhere better. This usually is just below your natural hairline, or the area where you want the wig to begin. This prevents any natural hairs from potentially interfering with the look of the wig.
Clean the area with isopropyl alcohol and a cotton ball, removing dirt and oil from the skin.
Remove the adhesive backing from the wig tape, then secure the tape to the wig's liner just above the seam. Remove the other backing piece. Put on the wig, then press in place.
Using Wig Glue
Repeat the same preparation process as used with the wig tape, in Steps 1 through 3 above.
Apply a wig glue skin protectant in the area where you'll attach the piece. This also helps with glue adhesion.
Apply wig glue to the same area, should you wish to keep the wig on for a period of up to two weeks -- or if the tape proves insufficient. Put on the wig.