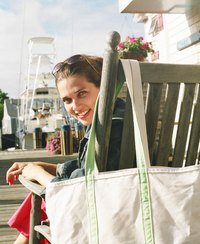 A study conducted by British researchers with the company Initial Washroom Hygiene found the average handbag's handles are three times dirtier than your computer's keyboard, mouse or the toilet at work. A handbag made from cloth is no different and must be cleaned properly to prevent damage while removing stains and germs. It doesn't take specialized products to get rid of the stains, dirt and bacteria on your cloth tote bag's handles; a little hand soap and laundry detergent will do the trick.
Things You'll Need
Delicate laundry detergent
White washcloths
1 tablespoon glycerin face or hand soap
Create a mixture of 1 tablespoon of delicate laundry detergent and 1/2 gallon of warm water. Dampen the corner of a white washcloth with the mixture and dab at any visible stains on the cloth tote's handles. Once the stains are eliminated, dampen a different corner of the white washcloth with plain water and dab at the handles to rinse out the soap.
Create another mixture of 1 tablespoon of delicate laundry detergent, 1/2 gallon of warm water and 1 tablespoon of glycerin face or hand soap. Mix the ingredients until they're well incorporated. Dampen an unwanted toothbrush with the mixture.
Scrub both sides of the handles with the laundry detergent and glycerin mixture. Wet the toothbrush again when necessary, and continue until you've scrubbed every inch of the handles.
Hold the handles under your kitchen tap. Gently rub the handles with your fingers to rinse out any remaining soapy solution. Once the water runs clear, gently blot at the cloth handles with a washcloth to remove the excess moisture.
Lay the cloth tote bag on a towel in a cool, dry spot. Allow the tote's handles to dry completely before using.