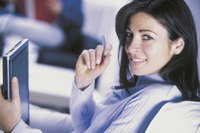 When you write under a pen name, you may not want your work associated with your real name. But if someone buys your work online and pays into your personal PayPal account, they'll see your real name in the transactions details. You can hide your real name by setting up a PayPal business account with your pen name as the name of your business. You still have to tell PayPal your real name, but customers will only see your business name. You have the option of either converting your existing PayPal account into a business account, or setting up an entirely new account.
Navigate to the PayPal website (link in Resources), and then click the "Sign Up" button. If you're already logged in to your personal PayPal account, sign out first.
Click the "Get Started" button under "PayPal for business and nonprofits." PayPal will display optional plans that entail a monthly fee. If you're looking for something simple and free, click the "Get Started" button under the Standard option.
Click the "Create New Account" button to create a separate account, or click the "Log In" button and enter your password if you want to upgrade your personal or premier account to a business account.
Activate the drop-down menu in the "Business Type" field, and then select one of the options. "Individual" or "Sole Proprietorship" generally are the best options if you are collecting income from your writing.
Click "Continue" if you're upgrading your current account. If you're creating a new account, you must enter an email address to associate with the account. The email address must be different than the address you associate with your regular PayPal account. You must also create a password and enter the code from the security image. Click "Continue" when you're done.
Enter your pen name in the "Name to Appear on Your Customers' Payment Pages" field on the next page, and then answer the other questions about your business. You must also enter your real name, phone number and address.
Click "Agree and Continue" to create the new business account, or to upgrade your existing account to a business account.