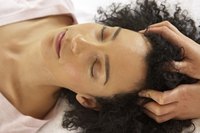 A beautiful head of hair starts with a healthy, nourished scalp. By taking a little time to pamper and nourish your scalp, you will be indulging in some feel-good relaxation while stimulating healthy hair growth. Stylists often give scalp treatments in conjunction with a haircut, but you can easily replicate this indulgent treatment at home. Make it a once-a-week ritual and enjoy.
Things You'll Need
Brush your hair gently starting at the top of your head and working downward in long strokes. Use a wooden paddle brush with small wooden bristles, which will gently stimulate your scalp and encourage blood circulation. Good circulation encourages healthy hair growth and a healthy scalp. Brush for two to three minutes, and work downward in long strokes to distribute your scalp's natural oils from the roots to the ends.
Place two to three drops of argan or olive oil -- which are both nourishing and moisturizing -- in your hands. Gently rub your hands together, then place them on the crown of your scalp. Massage your scalp without breaking contact. Use slow, circular motions starting with light pressure in the crown area. Gently work toward the base of the scalp, increasing the pressure if desired.
Gather small sections of hair approximately one inch away from the scalp and gently pull. This will help to increase scalp circulation while stimulating the hair follicle. Concentrate on the crown area, and hold each section for about 15 seconds. Work your way across the crown and down the back of the head. After this, run your fingers gently across the scalp for a calming effect.
Apply a hair mask or hair and scalp oil. Look for a hair mask or hair and scalp oil that contains nourishing ingredients, such as vitamin E, shea butter or coconut oil. Each of these will provide moisture to nourish your hair and scalp. Place a shower cap or plastic wrap around your hair to seal in moisture and heat. Leave on for 10 to 15 minutes, then rinse thoroughly.