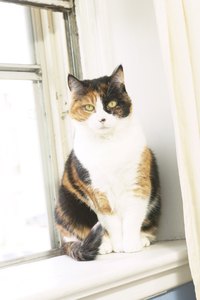 Cats love to scratch, and they don't always differentiate between their scratching post, your favorite armchair, wall molding and a windowsill. If your kitty has created significant damage to your sills, simple repair techniques can get them back into tip-top shape. Consider an anti-scratch plan to protect against future damage after repairs are made.
Things You'll Need
Drop cloth
Sander or wood stripper
Degreasing agent
Stainable wood filler
Putty knife
Sandpaper
Wood stain or paint
Paintbrush
Position a drop cloth over furniture or flooring under the windowsill that could be damaged by flying sawdust and wood stain; otherwise remove the furnishings.
Clean the windowsill using a degreasing cleaning agent and allow it to dry. Sand the cat-scratched portions of the windowsill, sanding in the direction of the wood's grain. If a small area is damaged, you should be able to touch up a single section. If the entire windowsill is damaged, you may opt to sand away the paint or varnish across the entire surface to create a uniform finish. Use a sander or a wood stripper for this process.
Fill in pits or grooves with wood filler as necessary, using a putty knife to apply it. Follow directions on the manufacturer's label for how long to allow the material to cure. Once it's dry, sand the surface again until you get a smooth and seamless finish.
Stain or paint the windowsill as desired. Allow the paint or stain to dry completely, and seal with a polyurethane topcoat.