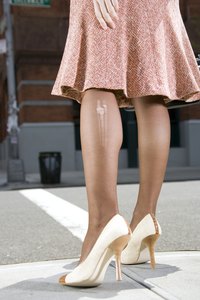 Tattered tights are barely there leg coverings you can customize to suit a desired look. Wear shredded tights with a feminine dress for a contrasting look, or show them off with a black miniskirt or shorts. For an edgy, grunge-glamorous fashion, make this simple trend at home to show off your style and flair for creativity.
Things You'll Need
Fast-drying clear nail polish
Purchase inexpensive tights that have a thin weave. Expensive tights have denser, harder-to-tear weaves.
Put on the tights and make sure they fit correctly at the foot and legs. You don't want to tatter the hose and then realize you've got them on backward. A good fit is important to getting the tatters right where you want them.
Decide where to make the shreds. Some shredded styles have just one or two holes and shreds per leg; others are shredded from the upper thigh to the ankle.
Pull the tights up and away from your skin at the location you wish to shred. Lightly make a cut in the hose using a seam ripper. Avoid cutting your skin with the sharp edge.
Use your fingers to pull vertical threads in the tear to create a laddered look. Avoid pulling many horizontal threads -- these make the tear look fluffy, not smooth.
Dab clear, fast-drying fingernail polish around the tears to seal them and avoid further tearing. Lift the tights up and away from your skin as the polish dries, which could take up to a minute.