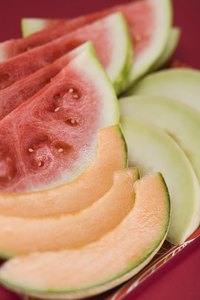 Melons (Cucumis melo) such as muskmelon, cantaloupe, honeydew, and watermelon (Citrullus lanatus) thrive in full sun in fertile, well-drained soil with a pH between 6.5 and 7.5. While some early season melons ripen within 35 to 45 days, many require 90 days or more to reach maturity. These warm-season crops produce long sprawling vines with several melons on each vine. When grown horizontally, melons require a large garden area. When they are grown vertically on support racks, melons can be comfortably tucked into nearly any garden.
Things You'll Need
Trellis/plant supports
Plant ties
Black plastic
Organic mulch
Erect a trellis as a plant support rack in the spring before planting the melons. This prevents accidental damage to young plants when erecting the supports. It also ensures that your melon plants will have the support they need when they begin to vine.
Train the vines to climb the plant support as soon as they begin to vine and produce tendrils. Gently guide the melons to the trellis with your hands or tie them loosely to the support with soft, flexible plant ties. Sections of old pantyhose or T-shirts cut into strips make suitable plant ties that won't damage your plants.
Support the melons with a sling of soft fabric when they are approximately baseball size. Tie the ends of the sling to the support rack, cradling the melon in the sling. This prevents the weight of the melons from damaging the plant as it grows.
Mulch the soil around the base of the melons with 2 to 3 inches of organic mulch, such as wood chips or straw, after the soil reaches 70 degrees Fahrenheit. This keeps the soil warm, retains moisture and creates a weed barrier. Alternately, black plastic mulch can be placed over the soil in the spring before planting. If you use plastic mulch, apply it during the hottest part of the day when the soil is already warm and stretch the plastic tight to remove wrinkles. Anchor the edges with soil or rocks to prevent it from blowing in the breeze. Cut X's in the plastic and plant seeds or seedlings in the holes.
Water the melons once a week to saturate the soil to the root level or whenever your melon plants show signs of wilting. During hot dry spells, the melons may require more frequent watering.