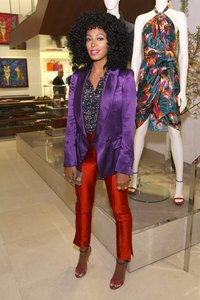 These days a lot of those old, boring fashion rules no longer apply, which means that ladies get to have a lot more fun with their looks. Many colors and prints that back in the day may have seemed odd when worn together, today, are actually considered very chic. There are plenty of ways to oddly match your clothing that are sure to make you a style star.
Mixing Prints
Combine different prints to make your look really stand out. Print mixing may seem odd, but it's actually very much on trend. Mixing prints can be a little dicey, so learning how to wear them properly is a wise choice before attempting the look yourself.
Pair florals and stripes. The juxtaposition of delicate, feminine florals with bold stripes is a perfect pairing. To keep your look from going too over the top, opt for a colorful floral print paired with a neutral-colored striped piece.
Try your stripes in other ways. If floral prints aren't your thing, try a different type of print. If you're concerned about clashing, choose different prints in the same color family to ensure wearability.
Embrace your animalistic side by combining animal prints. This look can get tacky quickly, so be careful. Try pairing realistic prints with artistic interpretations to downplay the kitsch.
Colorblocking
Mixing colors can be just as fabulous as mixing prints. The cool thing about colorblocking is that you can wear more than one bold shade at once, and because mixing bold, bright colors is right on trend, you can have tons of fun with your look.
Take baby steps. Colorblocking can be a bit scary so start by pairing one bold color with one color in a more neutral shade. Another easy way to rock the look is to pick a piece that is already colorblocked. Because colorblocking is so popular, you can easily find pieces that already contain many shades.
Get daring. To really stand out, try two or more bright colors together. A jewel-colored piece might look good with a soft pastel shade, for instance. If you want to go even bolder, two bright shades worn together will do the trick. If you're not sure which shades work best, stick with complementary colors.
Unexpected Androgyny
Combine unexpected silhouettes. The boyfriend trend is hot right now. Instead of wearing head-to-toe menswear-inspired pieces, switch things up by adding a feminine touch to your look.
Slip on a pair of heels to complement your baggier boyfriend jeans. Not only does this make your look more sexy, it'll also ensure that your jeans don't overwhelm your frame. A bit of added height really helps to balance out proportions.
Get even more girly by pairing feminine accessories with your look. A sparkly clutch, an oversized statement necklace or a bold red lip can go a long way. Try out a few combinations of your favorite girly accessories until you've nailed your own not-so-androgynous menswear-inspired look.