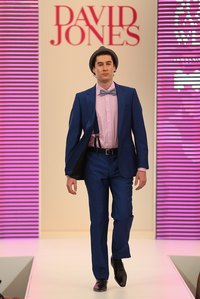 According to ZZ Top, "Every girl's crazy 'bout a sharp dressed man." But knowing how to put together outfits that make you look effortlessly cool can often seem like an overwhelming task. Don't sweat it. Because once you become familiar with a few tricks of the trade, coordinating your clothes and accessories -- like bow ties, belts, suspenders, and shoes -- will become second-nature. You may even start to enjoy shopping and getting dressed up.
Choose a bow tie with character. They come in a wide array of patterns and colors so you can find the perfect one to reflect your personality. It will also be the most decorative part of your outfit so have fun when choosing.
Pick a color in your bow tie pattern and find a pair of solid-colored suspenders in a similar shade. Conversely, if your bow tie is a solid color, wear printed suspenders to add a dash of variety. Just ensure one color in the print is the same as the shade of your bow tie.
Choose your shoes based on the color of your tie. If there is black in the tie, wear black shoes. Black is also a fine option to wear with crayon-box brights, like cherry red, electric blue and kelly green. On the other hand, brown shoes pair well with earthy hues in shades of chocolate, olive, terra cotta and cream. You can also wear brown with elegant jewel-tone shades like emerald and sapphire.
Pick a belt that is close in color to your shoes. Pair black shoes with a black belt. If your shoes are brown, wear a brown belt. Shades of brown don't have to match exactly but should be similar.