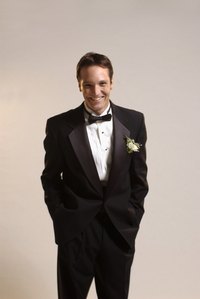 Perfect for a formal event like a wedding, a tuxedo makes a man look elegant and classy, but wearing the wrong size suit can have the opposite effect. Unlike buying a pair of pants or a shirt, a good fitting requires several accurate body measurements. Many formal wear rental stores recommend customers come into a showroom for measurement by a professional, but if that is not possible, you can measure yourself. You must take five specific measurements to get the best fit.
Things You'll Need
Wrap the measuring tape around your body, just under the armpits. Add 2 inches to the measurement. For example, a 38-inch chest would be a 40-inch jacket measurement. Write this measurement down.
Move the tape to measure around your neck. Poke your finger under the tape, then take the measurement. Jot down the number.
Measure your sleeve length by holding your arm out straight, parallel to the floor and bending your elbow at a 90 degree angle, so your hand is sticking up in the air. Measure from the center of your back, to the elbow and then up to the wrist. You will need a friend to help you take this measurement. By bending your arm for the measurement, you make allowances for the natural movement of your arm.
Move the measuring tape around your natural waist. Record the measurement. If you have larger legs or thighs, you may have to order a larger size pants to accommodate your shape.
Lay a pair of well-fitting pants on a flat surface. Smooth the pants and fold one leg out of the way. Use the measuring tape to get an accurate inseam measurement. Add this number to your notes.
Weigh yourself and check your height if you need to. Having an accurate height and weight can help you get the most suitable size tuxedo.