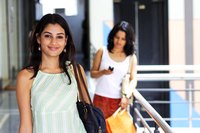 Before you invest in a vintage Chanel handbag, it's important to first do some research. Start by recognizing Chanel's authenticity details according to the year. The first Chanel bags were sold in February 1955, hence the handbag's name, 2.55. Special details in the chain strap, stitching and tag locations will help you identify approximately when the bag was produced. Many of the important identifying marks are hidden inside the bag.
Bags from the 1950s to 1983
Look and touch the exterior of the purse. The original purses were hand-stitched and made from jersey and leather fabrics.
Examine the chain and purse lock. These accessories use gold-colored metal that tarnish as it gets older. Many vintage Chanel bag owners have the chains re-gilded by Chanel. Early Chanel bags do not have the double-C locking logo, which was introduced by Karl Lagerfeld in the 1980s. Look at the zipper pull chain. You should plainly see the word "CHANEL" in capital letters.
Open the purse and look at the liner. Earlier Chanel bags have a red inner liner, the same color as the children's uniforms at the orphanage Chanel attended. The word "Chanel" is stamped on the inside of the bag. Look for a half-moon shaped outer pocket and lipstick pocket inside.
Look inside the vintage bag for an 8-digit authenticity sticker stitched into the lining. It may also have the letters "CC" and an X cut into the sticker. If the sticker is easily pulled out of the bag, it is a fake.
Bags from 1984 to Today
Identify purses from 1984 to 1986 by a 6-digit serial number printed on a sticker located inside the bag. From 1986 to 2004, these stickers showed 7-digit serial numbers. From 2005 to today, the serial numbers contain eight digits. Any sticker with more than eight digits is an indicator of a fake bag.
Ask for the accompanying authenticity card for bags made after 1984. The cards are made from plastic, have no hologram and should have numbers that match the serial sticker. Serial numbers are always located on the top right inside the bag.
Handle the chain of the bag. After Lagerfeld's redesign in 1984, Chanel bags feature a leather strap. Earlier Chanel bags were simply made of metal chains. Look at the purse lock for the words "Paris" and "Chanel." Also, notice that the purse lock has four flat-head screws holding it in place. Fake bags usually do not have this detail.