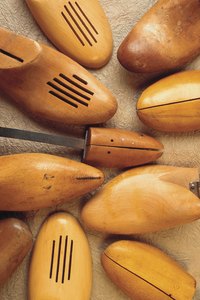 New boots are great, but sometimes the tight toe box creates blisters and painful joints. Besides suffering through the break-in process by wearing them all the time, you can stretch the toe box with the right tool. Once completed, the newly-fitted boot will feel much better, preventing them from sitting in the closet collecting dust.
Things You'll Need
Wooden shoe stretcher
50/50 isopropyl alcohol and water mix
Spray the shoe with the water and alcohol mix, inside and out. Doing this relaxes the leather fibers, making it more compliant to the stretcher. Let the solution sit for a few minutes.
Insert the stretcher into the boot. Push the end of the tool all the way to the front of the toe box.
Turn the handle on the back of the tool until the boot's upper is visibly taut.
Leave the tightened stretcher in the boot for roughly 24 hours. Remove the stretcher and test-fit the boot. Repeat the process until the fit is satisfactory.