If you do your situps on a carpeted floor, you may find that you have great abs but a nasty case of rug burn. Rug burn comes from friction, so the area most likely to be affected when you do situps is the area that slides against the floor -- in other words, your lower back and butt. Working out on a wood or tile floor is the obvious solution, but if your only workout space is covered in carpet, you can still fight situp rug burn.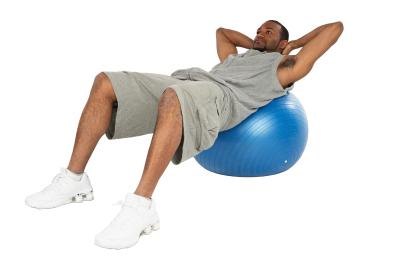 (Photos.com/PhotoObjects.net/Getty Images)
Things You'll Need
Silicone-based personal lubricant (optional)

Yoga mat (optional)
Step 1
Rub a silicone-based personal lubricant on the skin of your back and butt before doing situps.
Step 2
Lay a yoga mat on top of the carpet and do your situps on the mat. Try a sticky rubber one, the kind used to prevent slipping in hot yoga, for extra "grab" and friction reduction.
Step 3
Do situps on an inflatable exercise ball. Not only does the ball lift your body off the ground, eliminating contact with the rug, it cushions your lower back from the effects of gravity.
Step 4
Bend your knees and keep your feet on the floor. If your legs are extended, you're more likely to jerk your body as your back comes off the ground, causing unnecessary friction.
Step 5
Roll up to 45 degrees, then lower back down. According to BBC Sport Academy, this is all you need to reap the benefits of situps, and it lessens the momentum and range of movement that can lead to rug burn.
Step 6
Control the movement with your abs, rolling up and down smoothly. While this might seem obvious, it's easy to rely on your back muscles and quadriceps to drive the movement of a situp when you get tired. Unfortunately, this leads to much more movement than necessary. Do only as many situps as you can do perfectly, then stop.
Promoted By Zergnet