Tracking the number of push-ups you complete during a workout is tedious if you're doing dozens of push-ups each time. Whether you're a beginner and just starting to build your upper body strength or more advanced, accurately tracking your push-ups will help gauge your progress. Remember to discuss new exercise plans with your doctor prior to beginning, especially if you have any chronic medical conditions.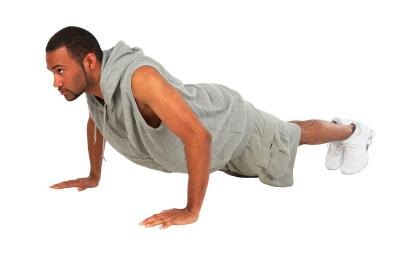 (Photos.com/PhotoObjects.net/Getty Images)
Things You'll Need
Paper and pencil

Push-up counter
Step 1
Determine your preferred method of tracking the number of push-ups you complete during each workout. Depending on the number of push-ups you do, it may be difficult to remember the number mentally as you are doing the exercises. For other people, this may not be a problem. It is personal preference whether you keep track of them yourself or enlist the help of a counter device.
Step 2
Use a push-up counter during your exercises if you need assistance keeping up. There are several push-up counters on the market that count push-ups when your chin or chest touches the counter. If you own a smartphone, apps are available that help track push-ups using the proximity sensor embedded in your phone.
Step 3
Create a chart to track your progress. Record the number of push-ups you complete on this chart each day to enable you to easily view your progress and improvement over time. Your chart can be as simple or complex as you would like. Whether you choose a sheet of notebook paper or a spreadsheet, as long as you have the date and number of push-ups completed, you can track your progress. If you prefer an electronic method, choose an online program or a smartphone app created for exercise tracking.
Promoted By Zergnet