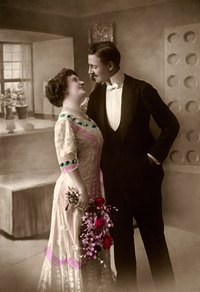 The first time you stumble into a vintage clothing shop, your inner Molly Ringwald may start to sing. After all, what girl doesn't secretly want to arrive at the prom in a pink vintage dress to find her own personal Duckie waiting to profess his love? But if you're not careful, you may end up looking less grand and more grandma. Pulling off a vintage look requires a keen eye, basic sewing skills and one foot firmly planted in the modern day.
Match your body type to the right era -- different decades were kind to different figures. 1920s flapper dresses, for example, are perfect for girls who wear an A-cup, but they hang funny on busty gals. 1950s kitten sweaters, on the other hand, were just made for flaunting your assets up top. Giant '70s collars can dwarf a small upper body; best to leave the disco wear to the broad-shouldered gals. Love '60s bell-bottoms? They'll look best on you if you have long legs.
Accessorize with contemporary pieces to keep your vintage look from turning into a costume. Don't pair a '50s dress with a pair of saddle oxfords -- you're not going to a sock hop. Instead, try a pair of modern leather Mary Janes with a chunky sole and buckle. Style guru Tim Gunn suggests thinking current when it comes to your bag, belt and jacket.
Repair your vintage pieces as needed. Learn to sew a button and darn a hole in a sweater or you risk looking like you raided your grandparents' attic with your eyes closed. Vintage clothes can deteriorate with age, so plan to invest a little time and money in mending and cleaning them. Girls who successfully pull off the vintage look usually have good relationships with their local dry cleaner and tailor.
Let go of your attachment to the number on the size tag. Vintage clothing, especially if it's made prior to the '70s, is likely to run at least four sizes smaller than you're used to. Go for what fits, not what you think should fit.
Style your hair and makeup to fit the decade you're wearing, within reason. If you have a penchant for all things '50s, learn to do pin curls. Love the '40s? Spend some time at the makeup counter finding the perfect red lipstick for your skin tone. All about the '80s? On second thought, leave your bangs flat. Some trends really are best forgotten.