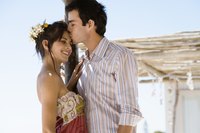 If you love your guy, but hate his fashion sense -- or lack of -- there's hope. Instead of telling him his clothing doesn't match his sparkling personality and adorable face, help him out subtly. Chances are he'll be open to your opinions and suggestions, especially if you are a bona fide fashionista yourself. The key is to take his personality and find a fashion style that represents his authentic self and what his daily life entails. Add a trend or two to the mix and you're sure to swoon over his look in no time.
Talk to him about what kinds of clothes and styles he feels most comfortable sporting. See if you can find out if there is a part of his body he is insecure about. Understanding how he perceives himself will help you figure out what styles to embrace. For example, if pants are difficult to fit because of his athletic thighs, you'll know to stay away from skinny jeans or fitted pants. If he feels self-conscious due to weight issues, steer him toward vertical stripes and dark-colored fabrics.
Buy him some clothes. While you don't want to blow your budget on his wardrobe needs, it helps to bring a couple pieces to his closet that you really like and that are classic wardrobe staples. This way, he can build around these essential pieces. Good options to start include flat-front pants, dark-colored jeans, cargo shorts, either polo-type or button-down collared shirts, and a cardigan or v-neck sweater. Let him choose the t-shirts and flip flops -- concentrate more on getting the necessities in place for when you go out together or for when he's at work.
Encourage him by being honest about how he looks. If you love the knit-cap trend but his hair can't pull it off, stay away from it. The last thing you want to do is coax him into wearing something he -- or you -- likes, but that fails to compliment his looks or lifestyle. Refrain from snarky remarks or making him feel silly for trying something new. Being helpful means listening to his concerns and finding wardrobe solutions to his clothing problems.
Focus on fit. The hem of his pants should not drag on the ground when he walks. Tell him to wear a belt and tailor the back of the pants to 1/2 to 3/4 inch above the ground. As a general rule, clothes should not pucker at the shoulders or in the behind area. Also, any areas that pull -- such as when buttoning a shirt or at the back of a jacket -- are an indication that he needs a larger size.
Teach him about trends. While it's important to know what is trending, it's equally important to understand how to wear the hottest styles. A good rule of thumb is to wear one trendy piece, such as a watch, scarf or color, at a time. If plaids and stripes are popular at the same time, advise him not to wear them simultaneously. The less-is-more school of thought works best when wearing trendy items because just one pop in style or color is all you need to liven up essential, conservative wardrobe pieces.