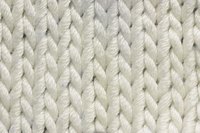 Knitwear provides warmth without smothering the skin, resists wrinkling and stretches easily to accommodate any body shape or size. Whether storing a vintage knit dress or a new garment inspired by a runway fashion, you need to hang your dress properly to avoid permanently misshaping or stretching. When you hang a knit dress for too long, the weight of the fabric pulls down and creates grooves in the shoulder area. If left to hang too long, the garment will droop unattractively when you wear it. You can temporarily hang a knit dress to remove wrinkles or store the garment in a dresser.
Things You'll Need
Wooden or flocked hanger
Non-acid tissue paper
Lavender sachet
Snap-closure breathable bags
Hanging a Knit Dress
Examine the knit dress for stains or spots. You should treat any stains before storing your dress. According to Martha Stewart, sugar stains, like from wine, can spread and set into the fabric. Food spots also attract pests looking for an easy snack.
Choose a wide hanger, like a wooden or flocked hanger, for a knit dress. A wider hanger will resist grooving the garment.
Fold the garment in half vertically on a flat surface, like a bed or clean counter top. Smooth out any wrinkles with your hands.
Slide the hanger under the bottom hem of the dress. Move the hanger up to the halfway point of the dress. Pick up the dress by the hanger hook, then smooth it out again.
Hang the dress up in a closet.
Other Ways to Store a Knit Dress
Line a dresser drawer with non-acidic tissue paper. Stash a lavender sachet in the drawer if storing the dress for a season.
Fold the dress neatly in half, then once again. The dress should be folded small enough to fit in the drawer.
Place the folded dress in the drawer. Place tissue paper on top of the dress and close the drawer.
Place a folded dress inside a breathable, plastic storage bag. Smooth out the garment, and snap the bag closed. Store the garment on a flat surface.