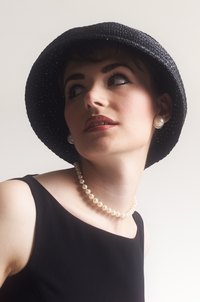 Whether wearing a dressy hat for a religious service or a day of watching polo, your hat should be dust-free and as polished as you are. A striking hat tops off a stylish outfit, but a dirty hat detracts from your appearance. Your choice of hat-care technique depends on the fabric and style of the hat. Hiring a professional hat-cleaning service is a handy idea, but when that's not possible, cleaning your dress hat yourself is a good option. In between cleanings, store your hat in hat box away from extreme temperatures and moisture.
Things You'll Need
Tea kettle
Pot
Hat brush
Powdered hat cleanser
Whisk broom
Window cleaner
Cloth
Nylon bristle brush
120-grit sandpaper
Baby shampoo
Minks oil
Neatsfoot oil
Wool, Felt and Fur Hats
Fill a tea kettle or pot with water and bring it to the boil. The kettle or pot should be steaming. Use caution around the steam, as it can cause burns.
Hold the hat over the steam a few seconds at a time. Brush the hat with a hat brush, moving the brush counterclockwise. Continue to steam sections of the hat, then brush. The steam action loosens up ground in dirt and debris.
Treat deep stains with a powder hat cleanser. Sprinkle the powder on the hat while it is dry. Rub the stained areas with the hat brush.
Hang the hat on a peg or flip it upside down to store it.
Cleaning Straw Hats
Brush the brim and crown of a straw hat with a small whisk broom. Use a gentle stroke and do not pinch the crown while holding the hat. Pinching the straw can break it.
Spritz a stain with window cleaner. Rub the stain with a clean, dry cloth to lift it away.
Wipe away moisture from rain promptly to avoid mildew or staining.
Leather and Suede Leather Hat Care
Brush a suede hat with a nylon bristle brush. Clean a leather hat with a slightly damp cloth. Wipe the hat clean of dust.
Buff matted suede with a piece of 120-grit sandpaper. This will raise the matting and restore the hat's soft look. Do not sandpaper a regular leather hat.
Remove an oily stain from a suede hat by mixing one part mild baby shampoo with 15 parts of warm water, then dampening a cloth with the mixture. Press the oily area with the cloth to remove some of the oils. It is impossible to completely remove an oil stain from suede.
Oil a regular leather hat once a year, or as needed, using minks or neatsfoot oil. By oiling the leather, you prevent cracking and fading.