Yoga is beneficial for your body, mind and soul. The practice incorporates meditation, breathing techniques and asanas, or poses, which have a variety of benefits such as weight loss, stress reduction and muscle-building. Unlike some strength training exercises that use weights, yoga uses body weight to provide resistance. In addition to regular cardio exercise, you should also include at least two days of strength training into your weekly fitness routine. Fast-paced yoga, such as Vinyasa or Ashtanga, provides cardio and strength training movements.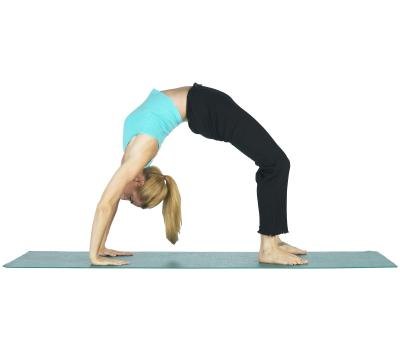 (PhotoObjects.net/PhotoObjects.net/Getty Images)
Step 1
Find local yoga classes to attend. Ashtanga and Bikram yoga have a specific series of poses that activate each major muscle group in your body. The asanas performed in other types of yoga classes, such as Hatha and Vinyasa, are not a set series. However, experienced instructors will typically choose poses that activate each major muscle group.
Step 2
Supplement yoga classes with your own practice at home. Purchase a DVD. Choose a quiet area in your home where you will not be disturbed. Place your mat on a flat surface where you can view the DVD. Wear loose clothing with no shoes or socks. Follow the instructions on the DVD.
Step 3
Create your own series of yoga poses that activate each muscle group. Each yoga pose activates unique muscles. However, if you are creating your own yoga practice, choose standing poses, forward bends, backbends, twists and inversions to activate all major muscle groups. Standing poses, such as the Warrior I, Warrior II and Warrior III, build strength in leg and core muscles. Forward bends, such as Big Toe pose, strengthen your back and hamstrings. Backbends, such as Camel pose, strengthen a variety of muscles in the front of your body. Twists, such as Half Lord of the Fishes pose, stretch and tone the abs. Inversions, such as the headstand pose, strengthen the spine, but depending on the pose, may also strengthen your arms and legs.
Promoted By Zergnet