Gearing up for volleyball tryouts takes hard work and dedication if you want to do your best on the court. Of course, natural height and strength will come in handy with this sport, but there are other factors that coaches will be looking at too, like speed, agility and precision. There are several exercises you can do to perfect these skills before tryouts and help cement your spot on the team.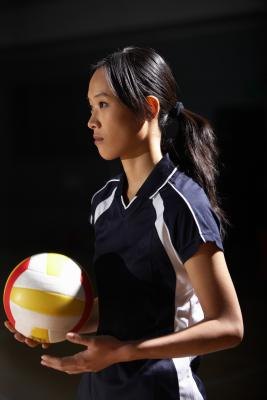 (Black 100/Photodisc/Getty Images)
Step 1
Build your strength from the ground up to make the most gains when you jump, spike and dig. Do box jumps by starting in a quarter-squat position, then exploding up in a vertical jump. Land softly with your knees slightly bent, and repeat, doing four sets of five jumps.
Step 2
Use dumbbells when you do a forward lunge to build strength in your quads and hamstrings. Begin with the dumbbells at your sides, then step into a lunge, keeping your back knee off the floor. Push yourself back into starting position using your front leg. Do four sets of four lunges with each leg.
Step 3
Increase arm strength with three sets of eight military presses using a bar. Hold the bar at shoulder width and raise to your chin. Bring the bar over your head until your arms are straight, then lower back into starting position. According to the strength and conditioning coach of UCLA's volleyball team, volleyball is a power sport that relies on its players to build their strength from the ground up. Exercises like these that work your legs, hips, core and arms will build your strength and boost your power on the court so you can impress at tryouts.
Step 4
Improve your muscular strength in your shoulder and lower body to get more force behind your serve and improve your accuracy with a series of practice serves that will hone your serving skills. Divide the court into zones, and practice jump serves by serving the ball to each zone, six times. Go for about 70 percent of your max velocity and focus on accuracy. Next, aim for the lines between zones, increasing your power to 80 percent. Finally, go full force with 100 percent velocity and see how many balls meet your target. These practice serves will help strengthen the muscles used during these key plays, and they'll also assist in improving your accuracy so you can hit your intended target.
Step 5
Practice fan drills to become more agile on the court, which coaches will notice because it's crucial during game time. Set up three cones on the court at the 10-foot line, evenly spaced so there is a left, middle and right cone; number them one, two and three, respectively. Have another person shout cone numbers to you, and run from a starting point to tag the appropriate cone. Use your left hand to tag cone one, right hand for cone three and alternate hands for tagging cone two. After tagging, return to the starting point in a defensive shuffle. The goal is to tag as many cones as possible during a set amount of time, with good, defensive posture and quick, short steps.
Step 6
Perform box drills to improve your speed on the court. To do them, set up four cones in the shape of a square, making sure there are seven yards between each cone. Beginning at the bottom left cone, sprint to the top left, then shuffle over to the top right cone. Go around this cone and then back pedal to the bottom right one. Complete the square by shuffling over to the bottom left cone, where you started. Volleyball coaches at the University of Washington rely on the box drill to increase their players' speed and improve their ability to quickly transition from going vertically to horizontally. During tryouts, coaches will also be evaluating your speed and reaction time, and box drills will have a positive impact on these.
Promoted By Zergnet