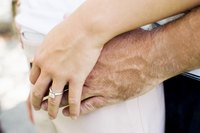 Engagement rings are often diamonds, but they can also have other stones in the setting as well. Regardless of what type of stone is in your engagement rings, proper care should be taken to preserve them. Skin oils, lotions, cleaning products and other everyday factors can dimish the appearance of jewelry over time. Care for your engagement rings properly to preserve them and keep them looking like new.
Things You'll Need
Ammonia or window cleaner
Soft toothbrush
Soft cloth
Lined jewelry box or tissue paper
Take the rings off when cleaning or doing other rough chores. Not only can cleaning products and harsh chemicals dull the stone, the rings can become cracked or damaged when doing work like gardening or operating heavy machinery.
Clean your engagement rings at least once a week. Skin oils, dirt and other grime can accumulate on the stones and mounting over time. Soak the rings overnight in a solution of equal parts water and ammonia, or soak the rings in household window cleaner. Remove the rings the next day, scrub them gently with a clean, soft toothbrush, rinse with clean water and dry the rings thoroughly with a soft cloth.
Check the rings periodically for any loose prongs. Hold the rings, one at a time, up to your ear. Tap on it slightly with your finger. If you hear a rattling sound, the prong is loose and will need to be tightened by a jeweler. Take the rings to a jeweler at least once a year for a thorough inspection of the ring even if you don't notice any damage or loose prongs.
Handle your engagement rings sparingly, especially the stone part of the rings. The oils from your skin alter the appearance of the stones over time.
Store your engagement rings separately from other jewelry when you are not wearing them. Place each ring in a separate compartment in a lined jewelry box to keep the stones from rubbing together or against other items. Wrap each ring in a piece of tissue paper for storage if you don't have a lined jewelry box.