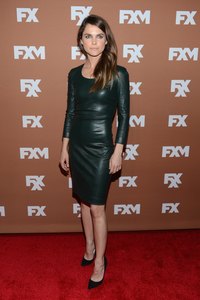 Leather can be a bit intimidating, especially when you're wearing it head-to-toe. Leather isn't just for edgy ladies, though. It can be ladylike, chic and perfectly wearable if you know how to style it. Plus, leather can add a fun and unexpected twist on a variety of styles and will instantly kick your wardrobe up one very fashionable notch.
Go monochromatic. Keeping your color palette consistent can result in a more subtle look, especially if you're opting for a darker shade like black. Pair your leather dress with a pair of black pumps and black tights if it's cooler out.
Let your dress be the star. Try to avoid over-accessorizing. Since leather is such a statement in itself, adding on a bunch of over-the-top pieces will distract from your look. Instead, keep it clean by adding subtle accents. A pair of simple earrings, a bracelet or a ring may be all you need.
Discover different silhouettes. Leather doesn't have to always be overly sexy. Wearing your leather in a looser fit keeps the raunchiness at bay and allows your look to be much more ladylike. Try a shift or empire waist leather dress, which will still toughen up your look without that skin-tight fit.
Make your look fun. There's no reason that you can't play around with fashion-forward options. Try a colored leather. This doesn't mean you have to wear leather in a bright, in-your-face shade. Try a burgundy or deep green to add extra depth without going too extreme.
Add a girly twist to your look. Add a feminine jacket or cardigan, considering denim for a rocker chic look. A floral print provides a cool juxtaposition of edgy and girly. If you like animal prints, slip on an animal print accessory like a pair of printed shoes, or add a shimmery accessory to glam your look up. Try a pair of sparkly chandelier earrings or a funky cocktail ring.