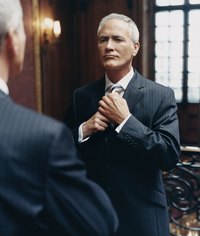 The right suit gives you a respectable, professional look at formal events, such as meetings, weddings and job interviews. If you haven't worn your suit in a few months or even longer, you can avoid an embarrassing fashion faux pas by ensuring that it still fits you properly. If you're worried that a suit is too big for your body, you don't necessarily need to buy a new one. A tailor can fix size problems with many parts of the suit, including the sleeves, pant waist and legs.
Things You'll Need
Put on a long-sleeved dress shirt, then put on your suit jacket and pants.
Stand in front of a full-length mirror. Drop your arms against your sides and rest your hands against your thighs.
Look at the shoulders of the suit. If you see any extra fabric bunching up or padding your shoulders, the suit is too big. Likewise, if you find a dent below the shoulder seam, it's too baggy for you. The fabric should fit snugly against the slope of your arm.
Check the length of the sleeves. When you hold your arms flat against your sides, you should see about 1/2 inch of shirt cuff. A large gap between the jacket sleeve and the shirt cuff means that the arms are too big.
Fasten the suit's button. If the suit has two buttons, fasten the top one. If it has three buttons, fasten the top two. If the top or middle button falls below your navel, the suit is too big.
Put your fingers between the shirt collar and the jacket collar. The suit is too big if you feel a large gap between the two collars. For a proper fit, the suit collar should show about half of the shirt collar.
Look at the sides of the suit. If they go straight down, the suit doesn't fit properly. The sides should slightly taper at the waist.
Turn around and look at the back of the suit jacket. The bottom of the jacket should cover your rear end. If it drops below that, it's too long.
Check the waist of your pants. If the pants are too loose and you need a belt to hold them up, they're too big. The pant legs should not bulge or look baggy.