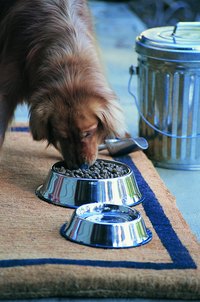 No matter their breed, elegant appearance or charming disposition, dogs are messy eaters. You can improve your inside dog's table manners by putting a large, no-slide, grip place-mat under their water and food dishes to catch the mess. (Reference 2.) American Kennel Club Spokesperson Lisa Peterson suggests keeping dog feeding stations out of high traffic areas and away from areas easily accessed by small children. (Reference 3.) Use one of the many colorful and decorative choices of duct tape to add a chic border to this no-sew project. (Reference 4 and 5.)
Things You'll Need
Scissors
1 roll 20-inch width no-slip shelf liner
1 white plastic shower curtain liner
Decorative duct tape
Acrylic paints, various colors
Permanent markers, various colors
Paint brushes or sponges
Clear spray sealer
Cut a 20-by-30 inch rectangle from the shelf liner roll and a 20-by-30 inch rectangle from the plastic shower curtain liner.
Decorate the white plastic rectangle using acrylic paints and permanent markers. Write or stencil your dog's name, draw or paint pictures of dog bones or doggy footprints, or just create an abstract design. With a little extra effort, you could even take the piece outside and let your dog put his own paw prints on it by sponging acrylic paint onto the bottom of his feet and letting him walk all over the plastic. Just be prepared for a bit of mess and clean off his paws thoroughly when he is finished. Allow the paint to dry for at least an hour.
Spray-paint a clear seal finish over the acrylic design using slow even motions. Allow the clear finish to dry for at least an hour.
Lay the shelf liner rectangle on a flat surface and layer the plastic rectangle on top of it with the painted side up.
Working along one side at a time, adhere the tape to the top plastic layer leaving enough of a sticky edge to fold under. Trim the extra tape at each end flush with the edge of the rectangle layers. Fold the tape under so that the sticky edge seals the top layer to the bottom layer on the side you are working on.
Repeat step five for the remaining sides. You should now have a mat that is decorative on the top with a non-skid bottom surface and a colorful duct tape border holding the two pieces together on all four sides.