Every time you walk, run, hold a lunge position or balance on your tiptoes, you are engaging the calf muscles. Located on the backs of the lower legs, the calves feature the gastrocnemius and the soleus muscles, both of which help lift the heel. Because you use your calf muscles regularly throughout the day, they may become tight and short; strains, pulls and tears can occur if they're not properly stretched. The sit and reach stretch can help keep your calf muscles flexible.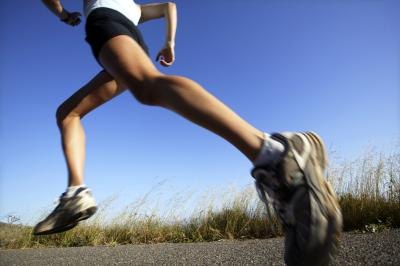 (Jupiterimages/Comstock/Getty Images)
Step 1
Sit tall on an exercise mat with your legs extended straight in front of you. Flex your feet so your toes point toward the ceiling. Engage your abdominal muscles and push your shoulder blades down your back. Lift your chest and elongate the spine. Place your hands on top of the thighs.
Step 2
Bend forward at the hips and bring your torso toward your thighs. Slide your hands down your legs toward the ankles as you move into a forward bend. Keep the abdominal muscles engaged to protect your lower back. Maintain a flat back to prevent it from rounding or arching.
Step 3
Grasp your feet with your hands and gently pull the balls of the feet and toes toward your torso. You should feel a stretch in your calves and hamstrings. If you can't reach your feet, use a yoga strap or towel for assistance. The pulling motion is small and should be executed in a gradual, controlled manner.
Step 4
Hold the stretch for 15 to 30 seconds. Keep your breath flowing to bring oxygen to the calf muscles as they are being stretched. Repeatedly inhale slowly through your nose for a count of five and then exhale, also through your nose, for a count of five. Release your feet and gently roll your torso up until it's again perpendicular to the floor. Repeat the stretch two to four times.
Promoted By Zergnet