Whether you're male or female, hard-core trainer or general weekend gym goer, bigger, more defined pecs can improve your physique. Your pecs are actually two muscles -- the pec major and pec minor, that between them cover your whole chest. You need to hit your chest from a variety of angles with different exercises for optimal size and shape.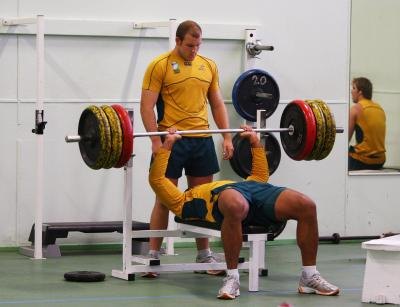 (Cameron Spencer/Getty Images Sport/Getty Images)
Step 1
Set up a flat bench in a squat rack or a bench press station and lie on it with your feet planted firmly on the floor.
Step 2
Lift the barbell from the safety pins and hold it above your chest with your arms completely straight.
Step 3
Slowly lower the bar toward your chest until it lightly touches just above your ribs, pause briefly, then push the bar back up explosively.
Step 4
Move the bar quickly -- lifting fast stimulates your fast-twitch muscle fibers, which have the biggest potential for growth and strength gains, according to strength coach Neil Purves, owner of Personal Training for Executive Fitness Leaders in Ottawa.
Step 5
Keep your elbows tucked in throughout the whole movement, advises Mike Robertson, corrective exercise specialist and owner of Indianapolis Fitness and Sports Training. This reduces the strain on your shoulders.
Step 1
Set an adjustable bench to a 30- to 45-degree incline and lie back on it with a dumbbell in either hand.
Step 2
Lift the dumbbells to your chest, then push them up forcefully until they're directly above your chest and nearly touching together.
Step 3
Pause momentarily, then lower them under control until they're back in the starting position. You get a bigger range of motion with dumbbells rather than a barbell, according to strength coach Jimmy Smith, author of "The Physique Formula." The incline angle also targets your upper chest more than the middle.
Step 1
Assume a pushup position with just your hands and feet on the floor and your torso and core held tight.
Step 2
Lower yourself toward the ground by bending your elbows until your chest is around 2 inches from the floor.
Step 3
Push back up to the starting position until your arms are straight. If regular pushups are too easy, try decline pushups with your feet on a bench, one-handed pushups or put your hands or feet on a stability ball to make them harder, advises trainer Shannon Clark of Bodybuilding.com.
Promoted By Zergnet